Jewelry Repair
Jewelry Repair – Finally a place to fix that broken piece of jewelry
That great pair of earrings, or that necklace that you really love has been sitting in your jewelry box ever since it was broken. Wouldn't you love to wear it again? Now you can get them repaired quickly, professionally, and inexpensively at ABC Bullion & Coin.
Repairing jewelry is something that is not offered by enough goldsmiths, but we have partnered with a seasoned professional that has been repairing jewelry for more than four decades.
How Does it Work?
Bring your item into one of our offices. Click here for our locations.
We will show your items over video conference to our goldsmith and he will detail the needed repairs and the cost.
Leave your items with us and then pick them up in the time frame that our goldsmith indicates (usually 2-3 days).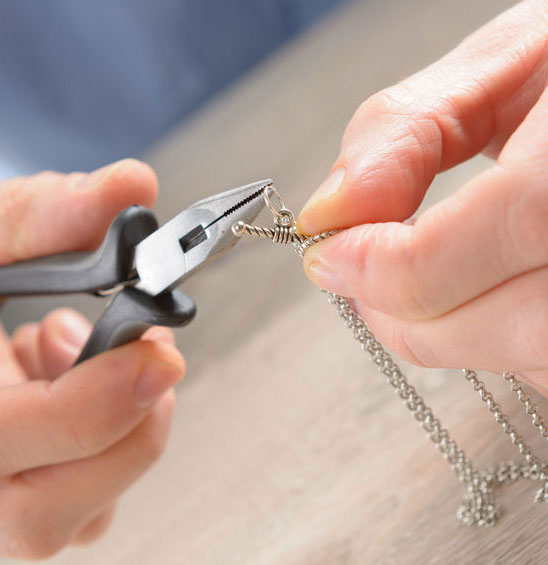 What jewelry repair can we perform?
Resizing rings (smaller or larger)
Re-plating rings, necklaces, bracelets, earrings, or any other jewelry
Repairing broken necklaces or chains of any size
Repair broken posts on earrings
Resetting stones
Fixing broken prongs on any ring or pendant
Recasting a piece into one that is totally new
Pricing
Pricing will vary greatly, depending upon the amount of labor and gold/silver/platinum that is needed (in many repair cases, no additional precious metals are needed, reducing the cost significantly).
Pricing ranges
| | |
| --- | --- |
| Resizing: | $25 – $100 + cost of precious metal (if any) |
| Soldering broken chains / posts: | $25 and up depending upon the number of solder points |
| Re-plating: | Starting at $90 |
| Stone setting (prongs): | $50 and up |
| New prongs: | $25 per prong |
| Any other custom repair or casting: | Quoted by goldsmith |
How it is done?
$store.cart.close()" :class="{ 'is-active': $store.overlay.active }" class="body-overlay">